This post brought to you by Vipre. All opinions are 100% mine.
I am admittedly not very savvy in the world of online security.  I have been running the same tired free program for years, not even really thinking about it.  Recently, however, my computer has been running really slowly and I knew something was up with it.  I did a scan on my old virus program and that didn't fix the problem.  I did a bit of research and found out my old program had slipped quite a bit in ratings and was no longer considered a good solution to keeping my computer safe.  Luckily, I've had the opportunity to check out VIPRE Internet Security to see how it measures up.  I must say, I'm impressed!
First, VIPRE was easy to install and get up and running.  I deleted my old internet security program but VIPRE found another program that was on my computer (likely pre-installed) that it deleted for me, which was awesome.  Within 5 minutes VIPRE was up and ready to go.  Then I started a deep scan upon restarting my computer and within minutes it picked up 40 potentially harmful things on my computer, all missed by my previous program.  Over the course of the next hour or so (I walked away and cannot honestly say how long the scan took) it found a grand total of 502 in that first scan.  Wow!  That's a lot missed by my old program that VIPRE was able to catch!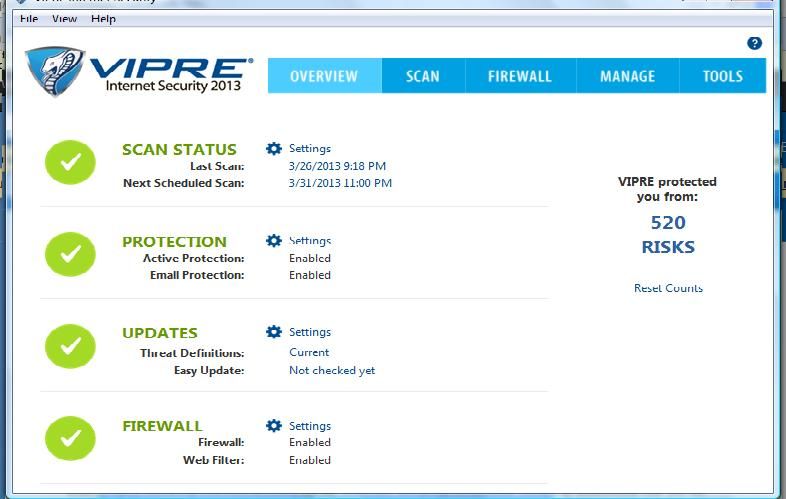 All in all it's only been a couple of days, but I'm already very happy with the protection I am getting.  My computer has sped up greatly since doing that first scan and I feel like it's a better quality program.  I also love that VIPRE offers protection for all of my devices, not just my computer.  My Android phone and my husband's tablet can both be secured by VIPRE. 
VIPRE may not be a free program, but for the amount that I use my computer and it's importance in my every day life, from school to blogging to my business, it's something I really need to take seriously, and VIPRE offers a great PC LIfetime option that is really affordable.