One thing I love about planning a beach wedding is all of the wonderful products out there that match the beach wedding theme. When searching on Etsy for a beach-themed way to carry our rings down the aisle I came across
World of Wonder
. This fabulous store offers a wide variety of UNIQUE and fabulous ring bearer and flower girl options for beach AND eco-friendly themed weddings. It was like hitting the eco-friendly beach themed Etsy jackpot!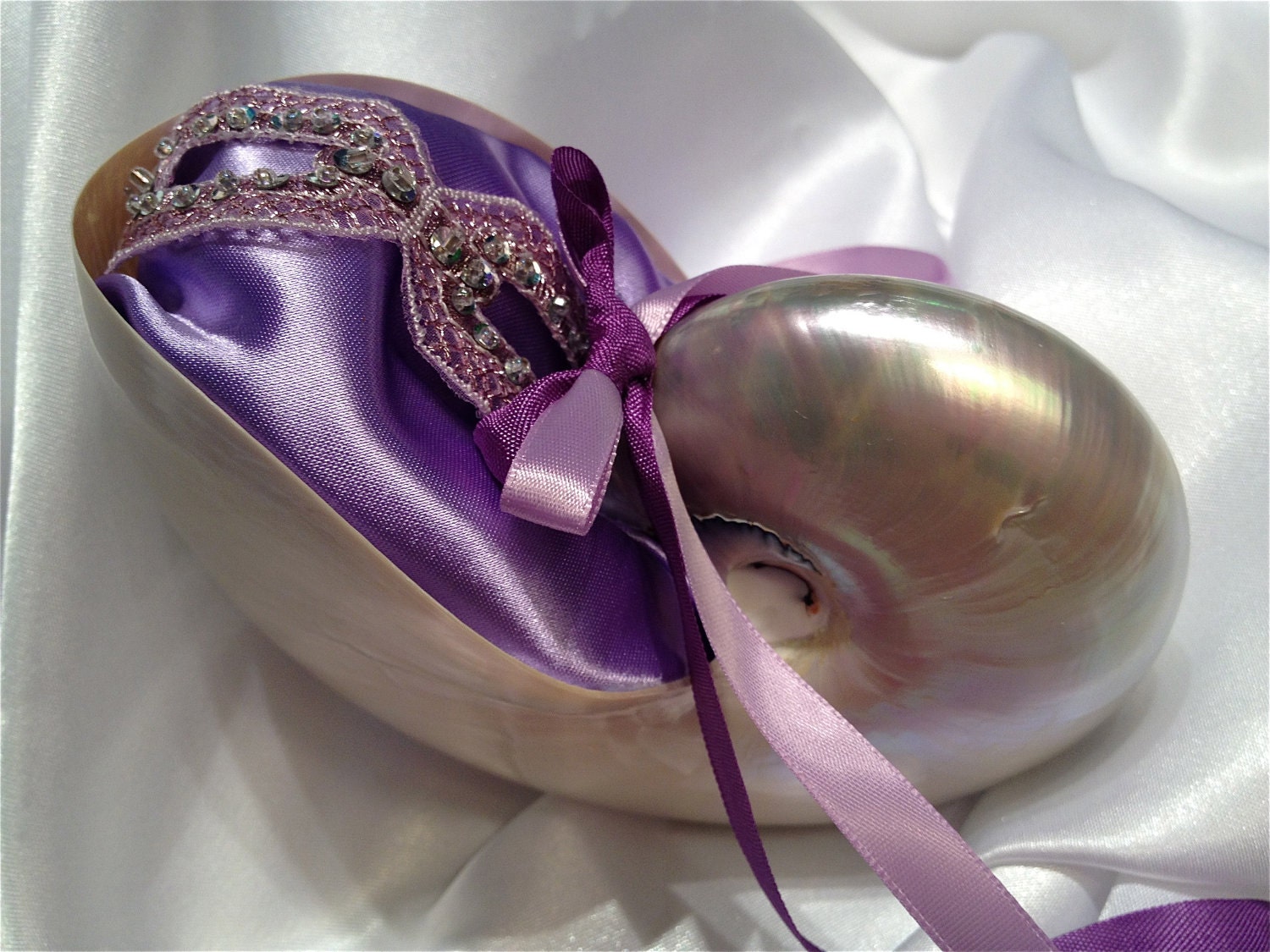 Jenna is the lovely mastermind behind World of Wonder and I have to give her huge props. There are lots of beachy and eco themed weddings out there, but hers really caught my attention in the sea of Etsy possibilities. There's always one product that catches me eye and pulls me into a shop, and in this case it was the
Beach Destination Wedding Iridescent Pearl Nautilus Shell Ring Bearer Pillow
. It caught my eye because it's beautiful and unlike anything I'd seen before. The silk lining and ribbon make this naturally elegant shell a personal touch that makes it perfect for any wedding. At just $39 I found it to be priced relatively similar or even a little cheaper then some of the generic ring pillows I was seeing in bridal shops. This one, of course, has more personality!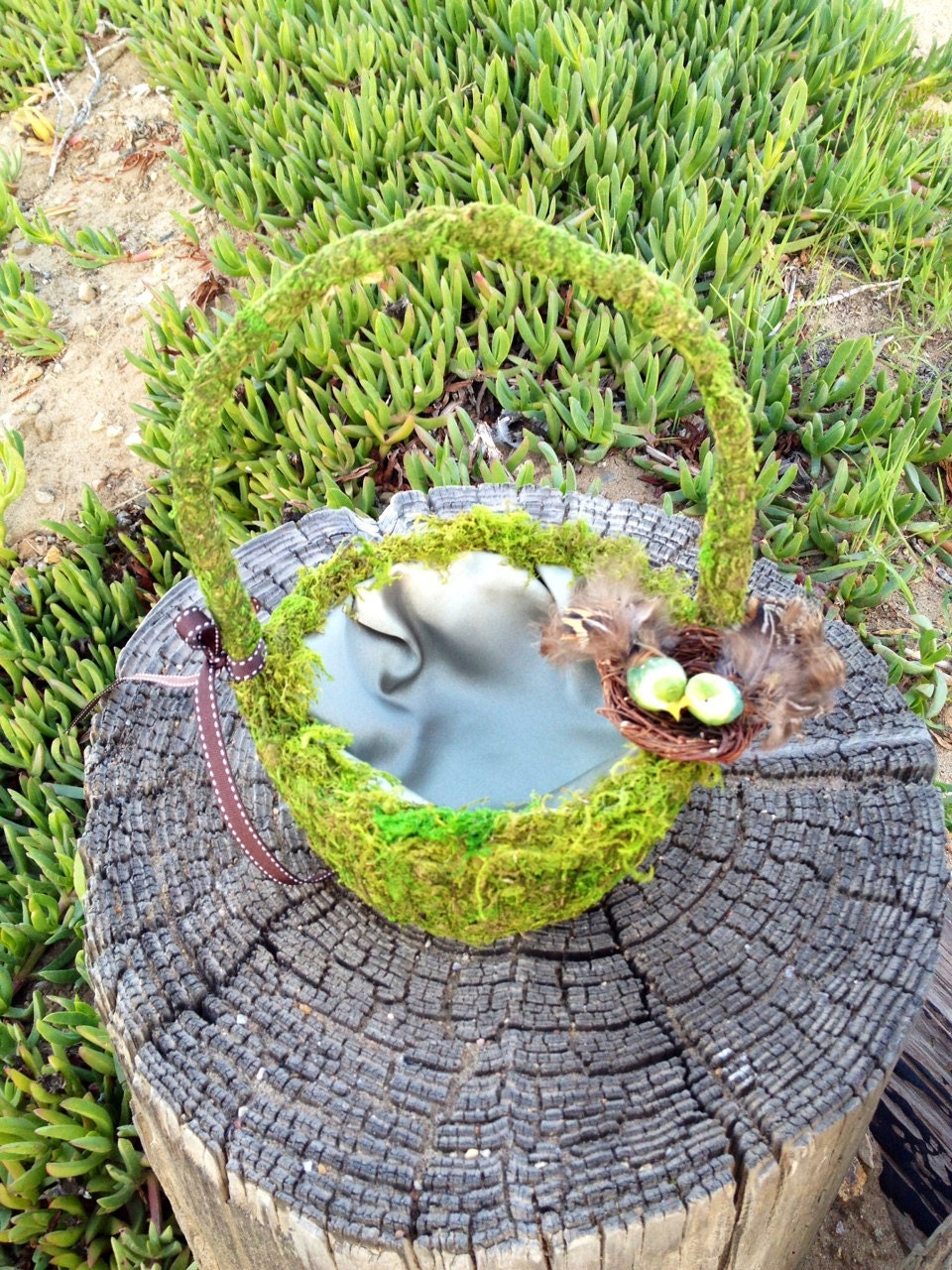 A second product that immediately caught my eye after entering her shop is the GORGEOUS
Rustic Woodland Fairy Green Wedding w/ Moss & Pheasant Feathered Love Bird Nest Flower Girl Basket
. At just $28 this is definitely lower then the flower girl baskets I was seeing in bridal shops and... uh... did I mention it was gorgeous! Before choosing a beach wedding my fiance and I played around with the idea of having the wedding in our back yard. After realizing that the renovations, permits, and other details needed to pull this off would take us far over our $3,000 budget we had to scratch the plan. But I had envisioned this beautiful Earth themed wedding with local plants, lots of greenery, earth toned colors, and a flower girl basket that looked just like this! The bird's nest is just a great added bonus to an already beautiful flower girl product. Sadly, there are no little girls coming to my wedding and thus no flower girl baskets needed. Which is a bit of a shame because I probably would have still gone with this basket even though it's not directly related to the theme. It's just beautiful enough to make it fit in!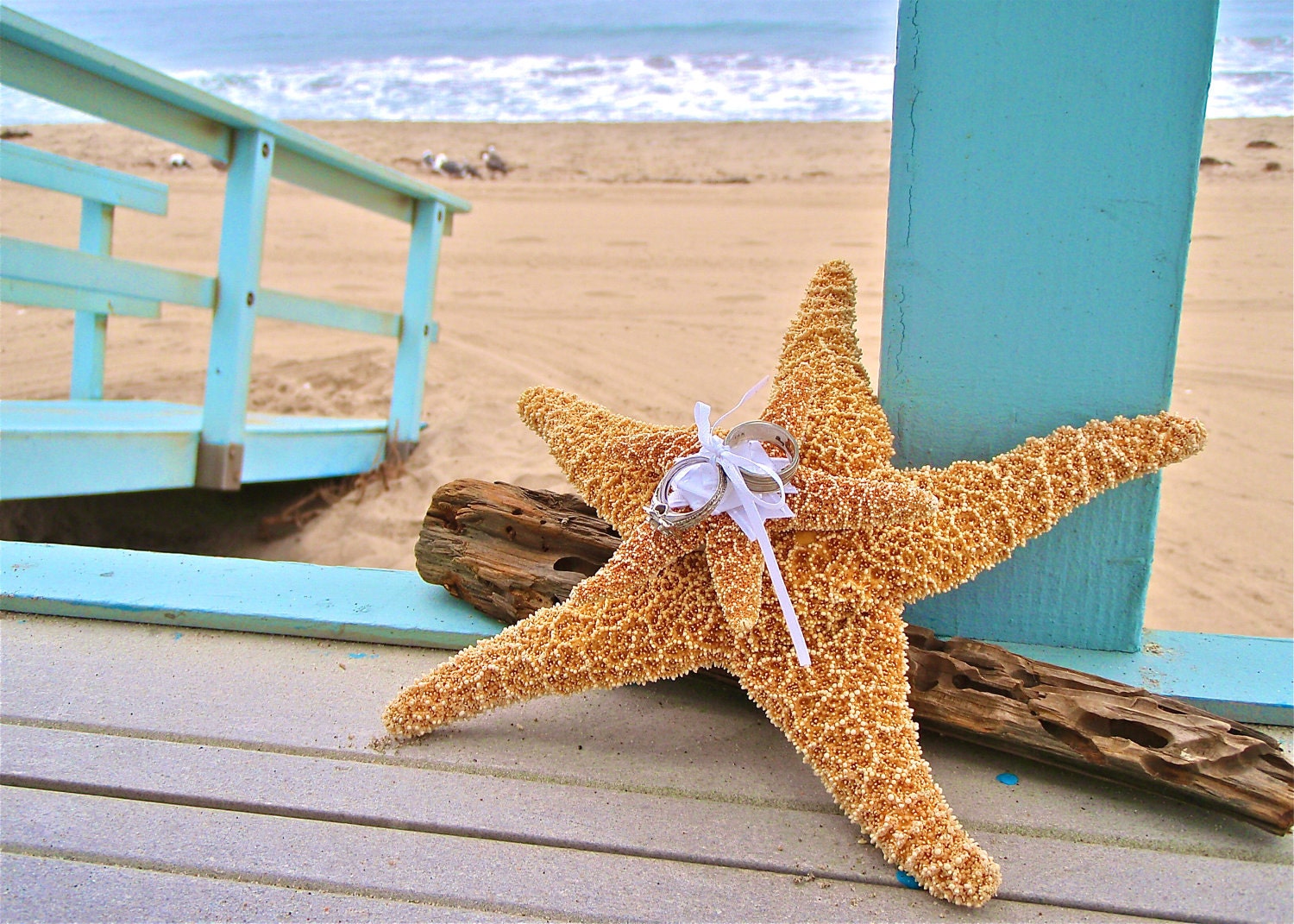 While the two products above are really gorgeous, my goal in my wedding is to pass on (upcycle, in a way) all of my products to other brides out there so they can enjoy at their weddings what I've enjoyed at mine. I have had so much help from my wonderful sponsors, like Jenna, during the planning of my wedding that I'd love to share the love with other brides. Because of this I've been trying to keep my wedding products more appealing to a wider audience. Which is why our wedding bands will be carried down the aisle on our wedding day on this lovely
Beach Wedding Starfish Ring Bearer Pillow Alternative
. Custom ribbons can be used to match your wedding colors of this beautiful stacked starfish pillow. It's perfect for any beach-themed wedding! And yes, after my own wedding I will be giving mine away! Although, if your wedding is coming up and you'd rather not wait for that to happen, this pillow can be yours for just $26! Just look at that beautiful image? Doesn't it make you want to go to the beach right now? And if you're already there... I'm jealous!
WIN IT!
Win a $25 gift certificate to
World of Wonder
! You can use this toward the purchase of a ring bearer pillow or flower girl basket of your very own! Jenna also has some beautiful beachy frames that are currently one sale for $10/each!
To enter, use the widget below. Don't see the widget? Click "Read More" at the bottom of this post to get to it!
a Rafflecopter giveaway