One of the biggest expenses at a friend's recent wedding was, to my amazement, the flowers. Without giving away her personal information, when I heard what her flowers had cost my mouth dropped... it more than doubled my ENTIRE wedding budget. The cost of her flowers was $600 more then the cost of the food at her wedding and they had really good food! While I understand the appeal of fresh flowers, and my friends flowers were lovely, an eco-friendly and frugal bride may find themselves unable to afford a nice floral arrangement and on the hunt for an alternative. Or maybe you're just not a fan of flowers in general (or have allergies) and want a beautiful alternative.
Fear not. In recent years the options you have for flower alternatives range far and wide! Flowers serve many purposes in a wedding (aisle decorations, centerpieces, and, of course, bouquets, bouts, and corsages). Today I'd like to tell you a few of the great Bouquet Alternatives that I found during my wedding planning. And stay tuned, this post will be followed up with some
GREAT GIVEAWAYS
that will help you save even more on your bouquet budget!
1) Silk Flowers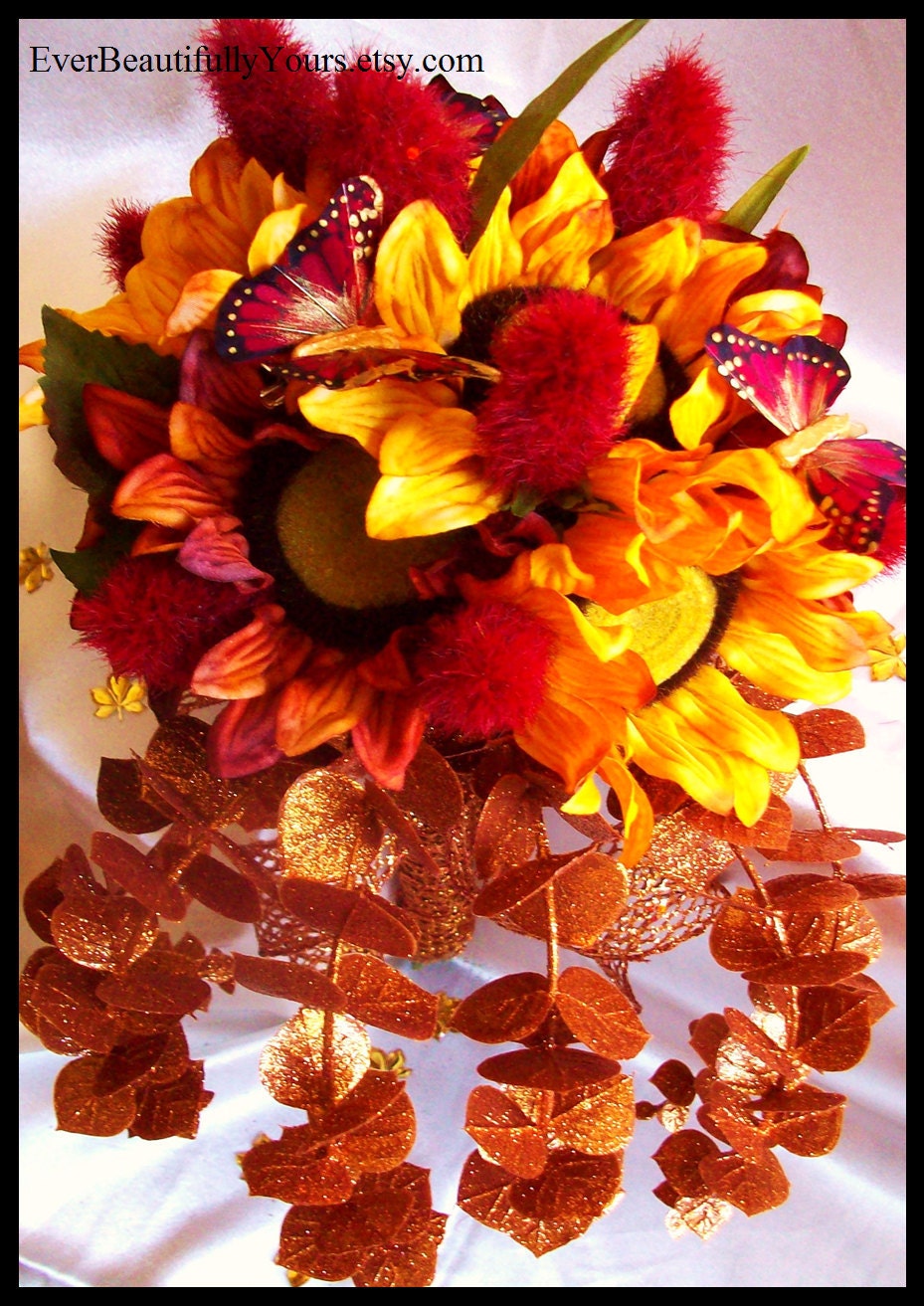 When someone says "flower alternative" most minds go to silk flowers. A lot of people scoff at this idea. Silk flowers, historically, have looked fake, smell bad, collect dust, and are generally unpleasant and not something you'd want to use for a wedding. But times have a changed! Silk flowers have evolved into beautiful, classy alternatives to real flowers! If you have your heart set on flowers, do not want an alternative, but cannot afford the high price of real flowers, silk is an alternative you should strong consider and look into!
Silk flowers are so versatile these days, with such a wide variety of flower types and options, that you should have no trouble finding bouquets that would fit perfectly in with your wedding theme. Just searching
"Silk Wedding Bouquet" on Etsy
shows such a great selection of bouquets that fit into any budget. Expect to spend about $50-300 for a bridal bouquet and $20-75 for your bridesmaids bouquets. You can find multi-piece sets on Etsy that will include the bridal bouquet, any number of bridesmaids bouquets, and even mother corsages, bouts, and a toss bouquet as part of a kit. These prices, obviously, will range from as low as $75 up to the thousands.
I have actually opted to use a silk flower bouquet as my bridal bouquet (more on that later) because I found a beautiful one that really caught my eye over at
Ever Beautifully Yours on Etsy
.
2) Brooch Bouquets
I had never heard or seen a brooch bouquet until last year when I started planning my wedding and my maid of honor linked me to a picture of one. I was in love! Until I actually saw a brooch bouquet, held it in my hand, and realized how heavy it was, I was SO sure I would have a brooch bouquet for me wedding. Since it's not exactly a frugal option, it was going to be my wedding splurge. But since we are having a DW, which requires a flight, I soon realized that I was not going to be able to handle the extra weight along with everything else. I am still very much in love with brooch bouquets, however!
There are a few ways you can go about finding your brooch bouquet. You can order one! Searching
"Brooch Bouquet" on Etsy
gives you pages of amazingly beautiful and creative options. Again, the selection is so wide that I imagine you can find a brooch bouquet to match any theme or color. Another option is to make a brooch bouquet. I met a bride who collected brooches from her friends and family- asking each female member of her family to donate a brooch during her wedding shower. She then took the brooches and made her bouquet. It was a bouquet that was not just beautiful but also meaningful! I was surprised with how well the various brooches that had been given to her meshed together so well in her bouquet. She did say that she requested silver or crystal brooches, no gold or colors, but still, they went together very well and showed the various personalities of her family members. You can also buy a
brooch lot on eBay
that will help you to make your own brooch bouquet which can save you a lot of money! Here is a great
DIY Brooch Bouquet Guide
from Offbeat Bride.
To purchase a brooch bouquet look to spend anywhere from $100-900 on a single bouquet. Prices will vary based on size and quality of the brooches used. I had budgeted $300 for my brooch bouquet and found dozens of bouquets that were "PERFECT!" for me so that is a reasonable price to expect to send. Of course, by making your own you can save a lot, but I'd still expect to spend $75-150 on the brooches and supplies.
3) Button Bouquets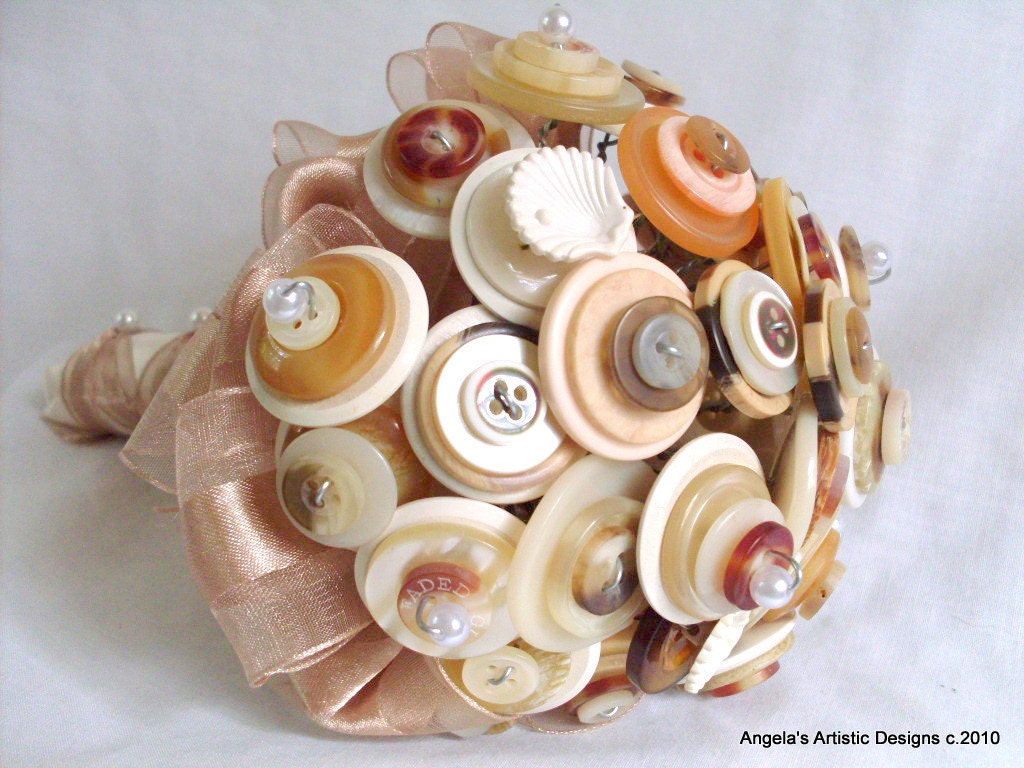 This is another new trend I saw popping up more and more in the past year or two. Buttons are fun, colorful, and actually make really nice bouquets! Don't believe me? Just check out the wide variety of button bouquets available over at
Angela's Artistic Design's Esty Shop
! Her designs, and prices, vary greatly but with such a variety you will probably find one that matches your wedding theme. They range from elegant and traditional to fun and funky!
Like brooch bouquets, making a button bouquet yourself is also an option. Have a box full of buttons just lying in your closet? Know of a similar box of buttons in a parent or grandparent's closet? Put them to good use and upcycle them into a beautiful bridal bouquet! Here is a great
Button and Bead DIY Guide
from Offbeat Bride.
Like all bouquet alternatives, the prices on these bouquets will vary, usually based on the size of the bouquet since buttons *usually* don't vary too much in price. Some button bouquets are filled in with other items like silk flowers, brooches, or ribbon that can add to the price. In my experience this option can be cheaper than silk flowers (and obviously much cheaper than a brooch bouquet) and you can easily find a large, beautiful bouquet for under $150.
4) Felt Bouquets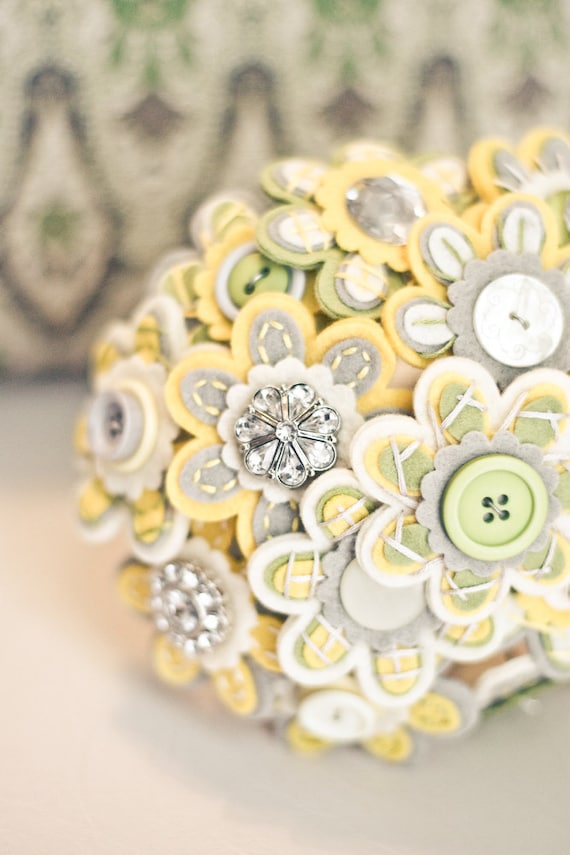 Along the lines of button bouquets, I started seeing felt flower bouquets popping up everywhere in the last year or two. I love them! There are so many creative options on Etsy. Since felt comes in a wide variety of colors, and since they can be cut and formed into hundreds of shapes, the possibilities of what you can find in a felt bouquet are endless!
Flowers, obviously, are the most popular form I've seen a piece of felt turned into when being used in a bridal bouquet. Searching
"Felt Bouquet" on Etsy
will show you not quite as many options as silk bouquets, but still plenty of shops available to create your dream bouquet! One of my favorite shops that I stumbled upon during my wedding bouquet hunt was
Miss Jennifer Rae's shop
. Since so many colors of felt are so readily available you will find that most felt bouquet Etsy sellers will custom make your bouquet to match your style, so there is no need to hunt around for hours to find the perfect one for your wedding!
Felt bouquets can be one of the most affordable bouquet alternative options out there! I found many great bouquets for under $50, with the most expensive only going up to $150. With the ability to upsell your bouquet after your wedding this is a great option for the frugal bride!
5) Seashell Bouquets
If you are having a beach or beach-themed wedding, consider a beautiful seashell bouquet to tie into your theme and bring the ocean into your Big Day! Shells are traditionally white or brown so most seashell bouquets are going to be white or brown in color. Some bouquet makers do mix in some colorful elements into their seashell bouquets to give them flair and color. Items like ribbon, silk flowers, and buttons can often be seen in
seashell bouquets on Etsy
. Likewise other beach-related items, like sea glass or starfish, are thrown into the mix to make a truly beach-y design!
Prices for seashell bouquets, like everything, will vary. I found them to be right in line price-wise with button bouquets, with seashell bouquets maybe being slightly more expensive for a larger bouquet.
6) Paper Bouquets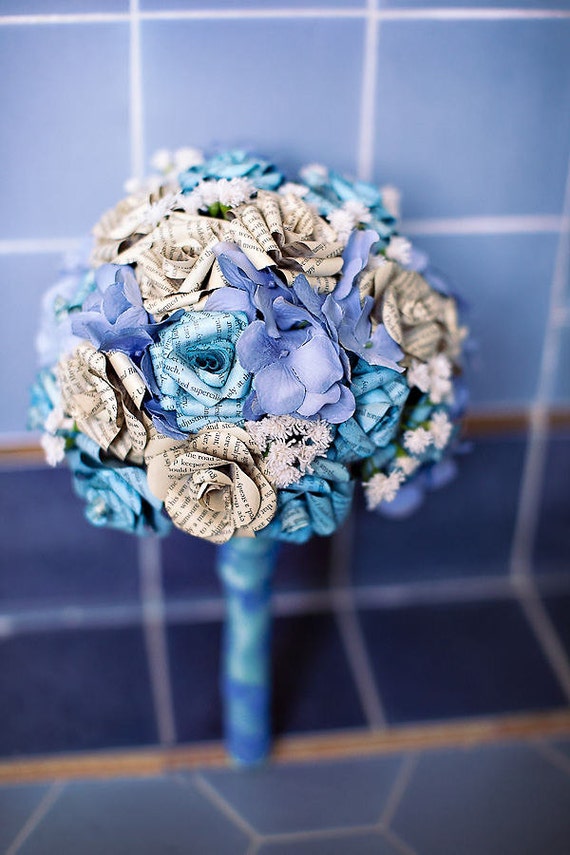 Probably among my favorite bouquet alternatives out there is the paper flower bouquet. I actually found my silk flower bouquet by doing a search for paper flower bouquets, which is another type of bridal bouquet that
Ever Beautifully Yours
creates. Since paper is relatively affordable and easy to come by paper flower bouquets can vary widely in design and color. So much so that you should have absolutely no problem finding a bouquet that will fit in perfectly with your wedding. And if you don't find the perfect bouquet for you, go ahead and contact some of the many sellers on
Etsy
who make flower bouquets and see if they will custom make your dream bouquet for you! Most will at least let you customize the colors and size of your bouquet.
If you are an eco-friendly bride then you will be pleased to see a wide variety of
recycled paper bouquets
available! These bouquet makers find their paper from all sorts of places- recycling bins, scrap paper piles, old books, damaged books, and old sheet music! This would be a great way to customize your wedding bouquet to match your personal interests in an eco-friendly way!
Bookish Bride
uses books to create her paper flowers!
Graceline Paper Studio
uses everything from old maps to sheet music to makes hers (sheet music is GREAT for a musician!). Harry Potter and Twilight fans will love the upcycled book bouquets from
GreencylceDesigns
!
You can also go DIY on your paper bouquet! Offbeat Bride, of course, comes through with a great
DIY Book Paper Bouquet Guide
! Great for you green and frugal brides.
Paper Bouquets tend to cost around the same as felt bouquets and are among some of the most affordable bouquet alternative options out there!
Those are just some of the many bouquet alternatives available to the modern bride! Have a unique bouquet idea you are using for your wedding? I'd love to hear about it! Please leave a comment telling me all about it!