During my wedding planning I fell in love with wedding signs. I know, it's a silly thing to fall in love with, but so many weddings these days are featuring signs in cute and creative ways and I wanted to hop on the bandwagon! From the ring bearers (or page boys) carrying "
Here Comes the Bride
" signs to adorable "
Mr. and Mrs.
" signs that can be used for cute photos. So one day I decided to search Etsy, high and low, for a sign maker I loved. That was the day I found
The Back Porch Shoppe
.
If you are having a shabby chic, earthy, woodsy, and even fun elegant as your wedding theme and want to incorporate signs in your wedding, this is the shop for you! Darline makes so many beautiful signs. And no vinyl here! All of her signs are hand painted!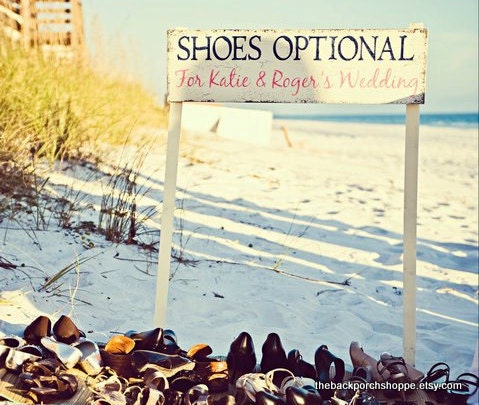 One of my favorite signs available at The Back Porch Shoppe is the
Shoes Optional
sign. Probably because this is the sign that would fit in well with my own wedding (if it weren't for that darn flight we have to take!) as we are having a beach wedding! Invite your guests to kick off their shoes and sink their feet into the sandy beach with this fun, hand crafted sign. Since the sign is also personalized with your names, it's also a great way to tell your guests that they've arrived in the right place for your wedding ceremony! Not having a beach wedding? I know many people like to kick off their shoes at receptions and I've seen a few weddings where brides have actually purchased some flip flops for their gusts to change into for the dancing portion of the reception. Throw this sign up over the bucket of shoes to let your guests know they are free for the taking... and they can kick off those high heels and really enjoy a night of fun dancing!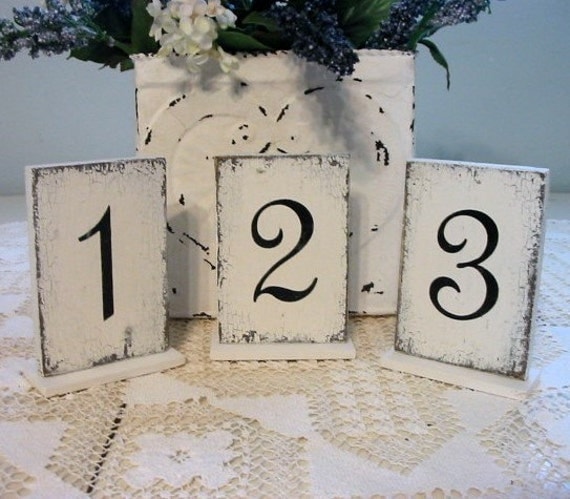 Another product that really stuck out to me from The Back Porch Shoppe is the Shabby Shic
Table Numbers
. I actually posted this product on Pinterest, I loved it so much, and it was quickly repinned by several other pinners! So it seems to be a hit in general. If Shabby Chic is your theme, or you just want to dress up your table numbers and do something cute and creative, this is a great option for you. They are double sided so the number of the table can be seen on either side allowing your guests to find their tables easier. And they are just really beautifully done. If I were having tables (instead of just table) at my reception I'd probably dress up the tables with these beauties.
There are literally HUNDREDS of great signs for all occasions and signage needs at
The Back Porch Shoppe
. I've only grazed the surface. Be sure you head over and take a look around yourself, then stay tuned because we will have a The Back Porch Shoppe GIVEAWAY in March!!!
I am now heading off to my wedding (well, tomorrow morning, anyway!) so you won't see any more posts from me until my POST-WEDDING POST! Wooot!