Oh,
Ever Beautifully Yours
. How I love thee. Seriously. I spent hours over the past year looking at bouquet after bouquet on Etsy trying to find the bouquet that would be perfect for my wedding. I'm rather picky so this was not an easy task. I needed something that was unique, beautiful, beachy, offbeat, affordable, and light enough to take with my on the plane without sending my luggage weight over the brink and into "scary fee" territory! When I came across the Sapphire Salsa bouquet over at
Ever Beautifully Yours
, I fell in love. It was perfect for me and my wedding in every way. So imagine my thrill and delight when Abbi not only offered up the Sapphire Salsa for my wedding, but also agreed to host a giveaway to one of my lucky readers!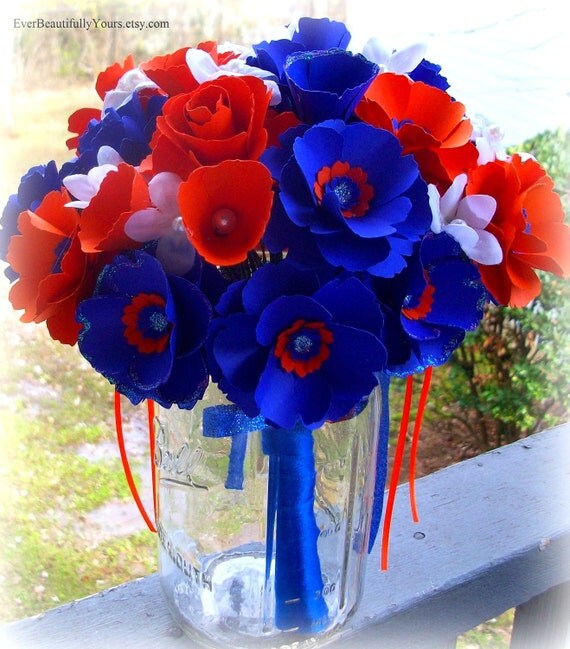 You'll notice there are no pictures of the Sapphire Salsa bouquet in this review. That's because I don't want to reveal the awesomeness before the wedding! Not even my fiance has seen it and I'm making sure it's a part of the whole "reveal" on the wedding day. It's a beautiful silk bouquet that looks even more amazing in real life then it did in her shop! And guess what? In March, I am GIVING IT AWAY! But more on that later...
Ever Beautifully Yours
sells is what I like to call a One Stop Unique Bouquet Shop. There are so many options in that shop! She sells paper bouquets, silk bouquets, and some of the most unique brooch bouquets I've ever seen!
I'll start with her amazing paper bouquets since it was actually a paper bouquet, not the Sapphire Salsa, that first caught my eye and brought me into her shop. What actually caught my eye was the
Sapphire Tangerine Paper Bouquet
(pictured above). The moment I clicked into the shop and saw the Sapphire Salsa bouquet, all eyes were stuck on there, but now that I'm looking at it again I see the real beauty and uniqueness to the Sapphire Tangerine bouquet. Abbi knows how to make a beautiful combination of multi-colored paper flowers, with some pearl and glitter accents, and finished off with a lovely ribbon handle. It's an eye catcher for sure, and at just $60 it's also a steal.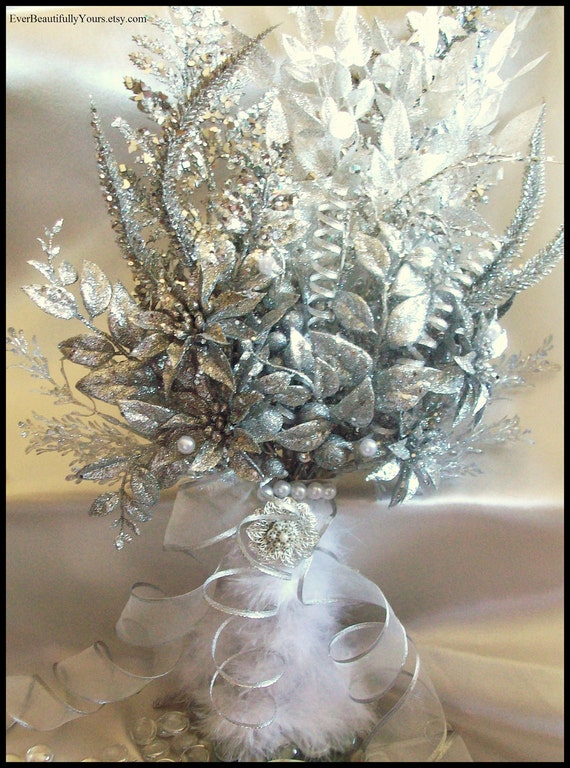 The next bouquet that really caught my eye was the
Silver Winter Crystal Brooch Bouquet
. This bouquet is exquisite! So truly unique and beautiful it kind of blows my mind a little. I immediately pictures this bouquet going down the aisle at a beautiful winter wonderland wedding, with snow falling outside the window and a fire burning in the fireplace of some chic chalet venue. If only I could change my entire wedding! Haha! I loved this bouquet so much I pinned it to my Pinterest board and someone quickly repinned it and commented that they would love to use it as a centerpiece. That is a brilliant idea, as well! It's beautiful, unique, and something that will make your guests swoon. And at $75 this brooch bouquet is actually one of the most affordable that I came across.
Ever Beautifully Yours has several bouquets but another product that caught my eyes, one that would go great theme wise with one of her fabulous paper bouquets, was the
Paper Flower Escort Cards
. I've seen a lot of escort cards in my day, and even though we aren't doing escort cards for our wedding, they are something that really interest me. Abbi's Paper Flower Escort Cards are lovely and can coordinate with any color scheme. They are affordable at $25/20 and beautiful to boot. If you are having an earthy wedding, these would make beautiful, recyclable place cards.
Be sure to check out all of the other amazing products offered over at
Ever Beautifully Yours
! There's a lot. And stay tuned in March to get your glimpse of the Sapphire Tango Bouquet and to get your chance to win it!
WIN IT!
Abbi has offered one very lucky Eco-Friendly and Frugal winner a the gorgeous paper bouquet pictured below! Just fill out the widget to enter. Don't see the widget? Just click "Read More" below to be brought to the widget page.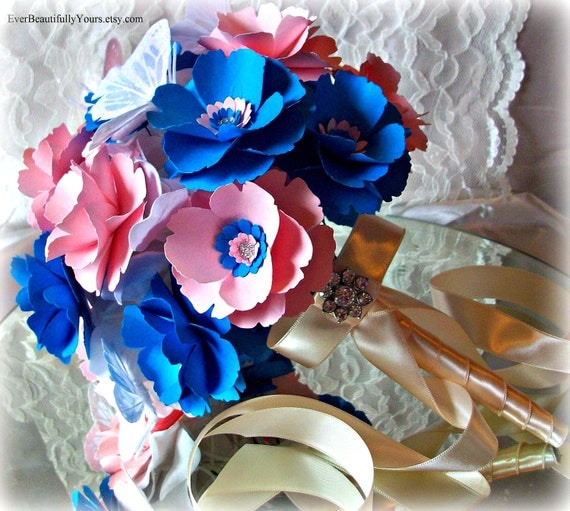 a Rafflecopter giveaway