I'd like to tell you about this great new website I just discovered called clipix, a new and innovative way to organize your life.  If you're anything like me, you have a lot on your plate and a lot that needs to be organized.  I run my own business, I am a full time college student, I write a blog, and  I'm planning a wedding.  That means I have a lot of things to keep track of and a lot of people I want to keep track of it with me.
Clipix is a great website that allows you to "Clip" websites, articles, ideas, and resources to a Clipboard so you can easily find this site and go back to it when you need it.  Think of it as a bookmarks bar, but on a website where you can see more of a preview of what's been bookmarked.  You can create different boards for different things and also share the boards with others.  Clipix also allows you to use Syncboards that allows several people, in different places, to clip items to the same board.  Check out the video below to see how it all works:
For me this can be useful for college.  I have two classes that require a lot of group work and research.  Creating a Syncboard specifically for a project or class assignment will allow us all to share ideas and research with one another without having to schedule a time for everyone to meet in person.  I can also create a Clipboard for each project I have and make it a lot easier for myself to access my research.  So it's great for group projects or solo work!
Another Clipboard idea that immediately came to my mind is a wedding board.  I am having a destination wedding and there is travel involved for every one of my guests.  It's also on a cruise and more than half of my guests have never cruised before.  I am frequently getting calls and emails asking me questions about how cruises work, what the ports of like, what they need to pack, etc.  I can see the usefulness of a Clipboard where I can pin articles like Packing lists, Port Guides, Cruise To-Dos, etc. for my guests to read. Too bad I just discovered Clipix now!   Had I had this website in my back pocket 5 months ago it would have saved me a lot of time and emails!  Even though we are less than two weeks away now, I thought it would be fun to Clip some things for my guests anyway.  Here is an image of my Wedding Clipboard: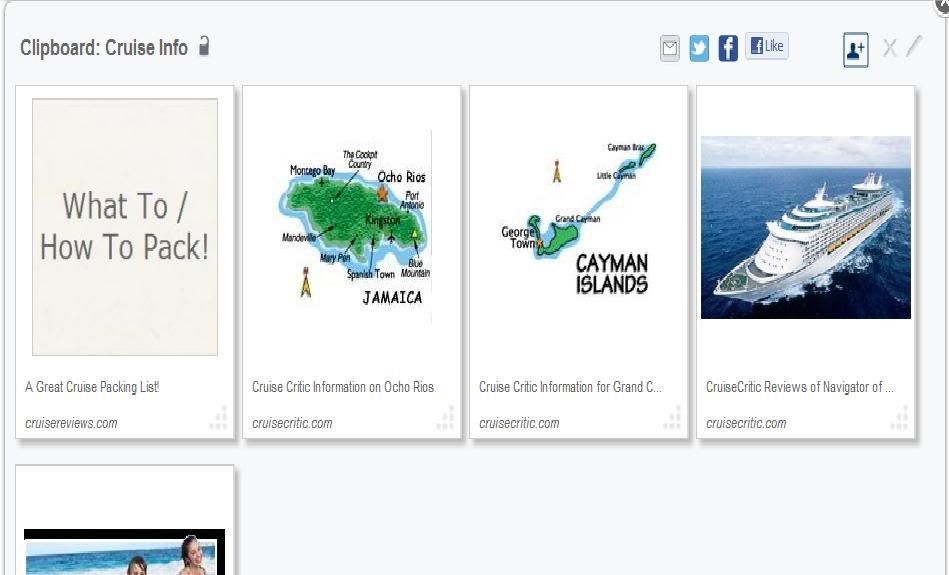 So whether you're clipping research articles, wedding ideas, recipes, or vacation ideas, head on over to Clipix to see how they can help you organize your life!  And comment below with what you will use Clipix for once you sign up?  I'd love some new ideas!
Promoted Post