Last week I told you about some unique and affordable alternatives to flower bridal bouquets, and one of those ideas was the button bouquet. A button bouquet store I absolutely love is
Angela's Artistic Designs
, so I was thrilled when agreed to host a review and giveaway of one of her amazing bouquets!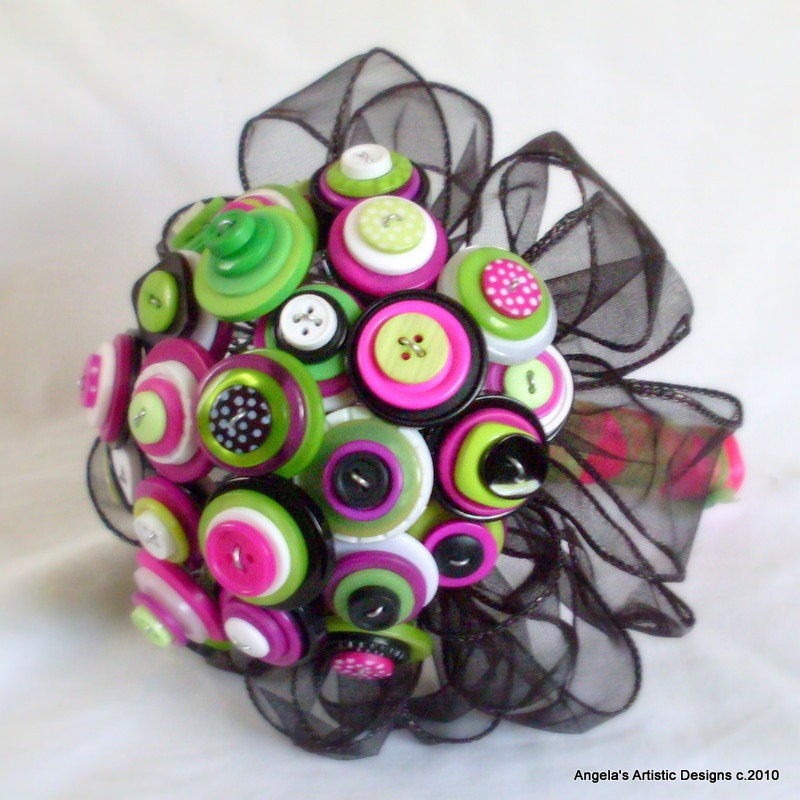 Angela also recently educated me of the actual cost of buttons! Did you know that buttons can cost as much as $5 a piece? Even the small ones range anywhere from $0.02 to $0.15 each. Vintage buttons and specialty buttons (like shell buttons) can vary greatly in cost as well. Call me educated! I didn't know there was this whole world of buttons out there! That really explains the varying costs of button bouquets better.
The reason I love Angela's Artistic Designs so much is because she has some very creative, fun button bouquets. What initially brought me into her store was the listing for what she calls the
Pink Neon Disco Mama
(pictured above). If you are having a pink and green wedding or if you're just looking for something unique and fun for you wedding, this is a great bouquet for you! We're talking neon green, hot pink, polka dots... what's not to love there? It's also one of a kind and at just $56 I'm not sure it'll still be available when this giveaway ends.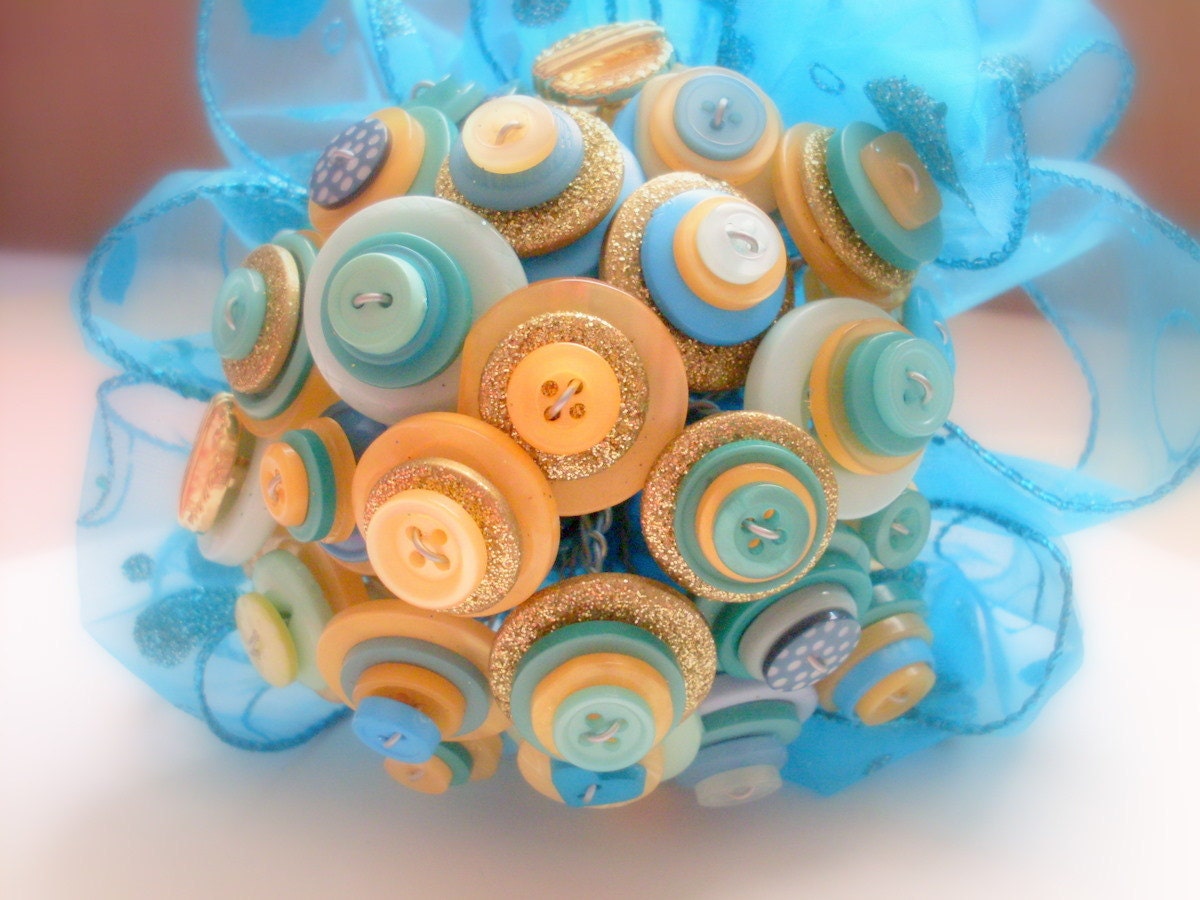 But worry not, there are lots of other great options in her shop. After getting pulled in my by the Pink Neon Disco Mama I was immediately drawn to the
Turquoise and Gold Bouquet
. This appealed to me because it feels very beach-y to me. With the shimmering gold buttons reminding me of a beach at sunrise, the yellow buttons remind me of the sun, and the turquoise button of the Caribbean sea in the morning. This bouquet, at just $56 as well, would also make a fabulous bouquet for a beach wedding, or really any wedding!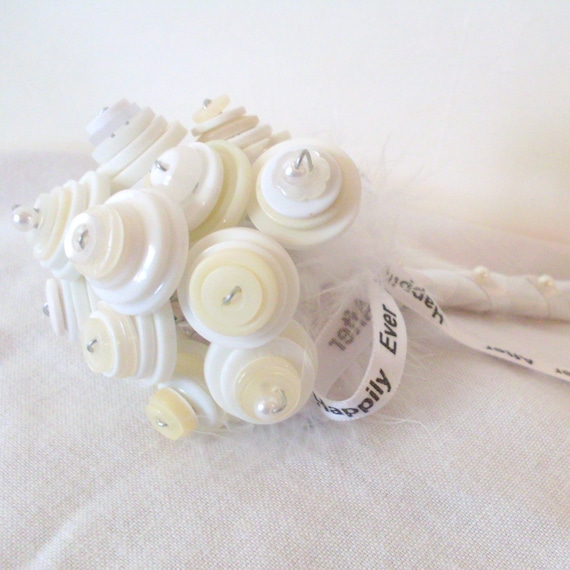 The downside to button bouquets, as I mentioned in the bouquet alternatives post, is their weight. If you are having a local wedding or don't mind the extra weight in your suitcase, they are a great, great option! But what about tossing these bouquets? Yeah... it's a little on the dangerous side! Can you imagine your six year old niece getting conked on the head by your large, heavy button bouquet? Probably not a pretty thing to imagine! Luckily, Angela's Artistic Designs has you covered with some great, lightweight, toss bouquets! I especially love the
Black and White Tuxedo Toss Bouquet
! It's also a great option for your bridal party, and at just $20 you can buy a matching set plus a bouquet for yourself and still save a lot of green.
Angela can round out your button themed wedding with some awesome
button boutonnieres
!
Angela's Artistic Designs
isn't just button bouquets, either! Be sure to check out her shop for some great vintage jewelry, buttons and supplies to DIY, and some great cork placeholders, among other things.
WIN IT!
The amazing Angela has offered one lucky reader a Toss Bouquet of their very own! This is an awesome companion to a larger button bouquet to use as a toss bouquet, or as a bridesmaids bouquet!
Don't win it this time around? Don't worry! My maid of honor is carrying a lovely button bouquet from Angela's Artistic Designs down the aisle at my wedding. Once we get back I will be doing
ANOTHER GIVEAWAY
and will be giving away that bouquet! Stay tuned for pictures!
Use the widget below to enter. If you do not see the widget click the "Read More" link.
a Rafflecopter giveaway