There are two venues involved in most weddings - the ceremony venue and the reception venue. Oftentimes, the venues are one in the same. Have your wedding at your church, have your reception in the church basement! Or, they can be different. Have a wedding at a park and the reception at a hotel ballroom. There are pros and cons to both and what you have for a budget will greatly affect where you can (and cannot) have your wedding.
What We Are Doing...
Smith's Cove, Georgetown, Grand Cayman
Our decision to have a destination weddings was mostly a cost one. We have a small budget and needed an affordable venue. I love beach weddings and since many beaches are public they don't cost anything to use for your ceremony. In the US you have to be concerned with the legalities of having a ceremony on a public beach (permits and other regulations) so do your research before you pick this for your venue. But in Grand Cayman you do not need a permit to have your wedding on a public beach. So off to Grand Cayman we go!!
Planning a wedding through the actual cruise line will cost an arm and a leg. Definitely more than we can afford and it comes with perks we, frankly, do not want. Instead, I contacted a local wedding planner (more on that later!) who knows of some great beaches that are public but quiet to give us some privacy for the ceremony. The planner, the marriage license, and the officiant is going to cost us $700. That's nothing in the wedding industry!
For the reception we have opted to go nice and easy. Cruises offer formal sit-down dinners in their Main Dining Room each night. While not private, it's a great way for our guests to have a wonderful meal and socialize with each other. So instead of paying for a reception room and having a private dinner with a limited menu we opted instead to just have our reception in the regular Main Dining Room and splurge a bit on some wine for our guests to drink with their dinner.
Total cost of our wedding venue + reception venue? $800.
Not into a cruise port wedding? Check out these other money saving ideas!
1) Your Church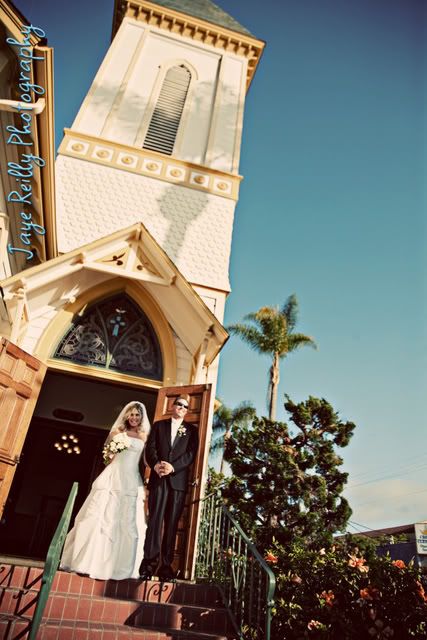 If you have a church that you already have a great relationship with and you want to have a religious ceremony, oftentimes this can be the most affordable route for your ceremony. Most churches do not charge for you to have your ceremony in their church if you (either the bride, groom, or one of your parents) are a member of the church. And if they do charge it will be a nominal fee, usually under $300. You will need to pay the officiant for performing the ceremony, however. The cost of this varies and I've seen everything from $100 to $500. Usually the fee is a "suggested donation", but I do suggest you donate what they suggest you donate! If you'd like an organist or performer provided from the church you will also need to pay for that, usually about $100. Tipping the church coordinator and other employees is also typical, but will usually only add up to a few hundred dollars at most.
You can also opt to have your reception at your church hall if they have a space available. The church I grew up in (a Catholic church) will rent the basement out to it's members, free of charge, for wedding receptions. There tend to be more regulations with this option, however. For one, alcohol at my church was limited to wine only. No beer, no hard alcohol. Dancing beyond the first dance and parent dance was also not allowed. I found this to be the case at the few churches I looked into to write this article. Having your reception at a church may also mean a little more work on your part. Usually decorations, setting up, and cleaning up is the responsibility of the bride and groom, not the church. Obviously, though, this means more money in your pocket at the end of the day! Remember to tip anyone involved in helping out with your wedding if provided by the church, often times they are volunteers or working for minimal pay.
Please note that some churches may have more of a fee to use their full facility for a wedding. And if you are not a member of the church they may charge a fee to use the chapel for your ceremony. Be sure to ask before you get your heart set on a church you can't afford!
2) Parks or Other Public Spaces
I mentioned beaches in the intro to this post and I'd like to expand that option by including local parks. In 2010 a friend of mine got married at a local state park and then had the reception at the parks event hall, which was really little more than a log cabin with a kitchen. It was a beautiful wedding with lots of personality! A great highlight to this particular park was the ability for the bride and groom to rent out the little cabins so guests could spend the night.
One cost example I know a bit about is the Samuel P. Taylor State Park in northern California. They offer 2 sites for weddings- the smaller site charges $110 and allows for up to 30 guests and the larger site can accommodate up to 80 guests and will run you $225. In addition to that you need to pay for a monitoring fee to ensure your wedding does not affect the other park guests and vice versa. At Camp Taylor that would cost $90/hour (so about $500 total for a full wedding). If you plan to serve alcohol you would also need insurance. But for about $800-1000 you will have a beautiful ceremony and reception site!
Remember, state parks aren't just trees and camp sites! Many state parks include historic homes, lighthouses, and beaches. The price you will pay for a state park will vary greatly based on the state you are in and the type of park you are choosing.
3) Hotels... Without the Ballrooms
Most hotels with ballroom options will be pricey! But go just down the street to the smaller hotel and you may find yourself a great deal! With manicured lawns great for the ceremony and modest conference rooms that have a lot of decorating potential they are an often overlooked options, which means you can usually snag yourself a deal.
Every year my family rents out a room at a motel in Rochester, MN for our family Christmas. For 4 hours we get a room for just $75. We are responsible for decorating and cleaning up, but the room is large enough for the whole family (about 50 of us) and the hotel is easily accessible to many downtown ceremony venues. No, it's usually not going to be a fancy wedding, but if you throw in your own personality and decorating ideas you can really make it great!
To find a hotel that will cater to a wedding without breaking the bank do a Google search for affordable wedding hotels in your area. At least here in Chico several that label themselves an affordable wedding option popped right up! Just make sure you don't end up having to spend more on bringing in your own caterers, bar tenders, security, etc. than it's worth! When not provided by the venue those costs, if you feel you need them, will add up quickly!
4) A Backyard Wedding
If you or someone in your family has a large backyard, why not look into having the ceremony and reception there? The venue itself would be free, so then you just have to focus on the details and legalities. Depending on where you live this vary GREATLY! In my town we would need to purchase an event permit and a liquor permit (in addition we'd be required to have security and insurance if serving alcohol). All in all this added up to about $1000. Not too shabby for a place where you can have both the ceremony and the reception, but still a bit over our budget. However, if we lived just 300 feet west it would cost us almost nothing due to the fact that the city limits end at our house and everything passed that is part of the county which has fewer regulations. The cost would have been cut nearly in half to about $500. So keep that in mind! But in many areas using your own backyard can be doubly effective- it'll save you some money and you can also use some of your budget to spruce up your yard and curb appeal which will add to the value of your home!
If you aren't interested in doing that much work, there are many people who already have their homes set up to host weddings. They will already have the needed permits on hand and areas of their home and yard already set up and designated for ceremonies and receptions. The costs to use these places will obviously vary based on a lot of factors (size of the home/yard, cost of the homeowners permitting for weddings, services offered, etc.) but often you can find a great deal. To find these sorts of venues, check out Craigslist and do a few Google searches. Just make sure you interview the homeowners to ensure they are properly permitted and insured to host your wedding and, if not, how much more it will cost for you to obtain this.
5) An All Inclusive Resort Destination Wedding
Many All Inclusive Resorts around the Caribbean and Mexico offer amazing deals on weddings! The Sandals line of resorts, for instance, offer guests FREE weddings (which include the wedding venue, bouquet and boutonniere, music, officiant, wedding cake, and more) if you stay for a certain number of nights at their resorts. Add ons are, of course, extra, but still minimal in comparison!
Destination weddings are also a great way to keep your guest list down. If you have dreamed of a small, intimate wedding but still want to invite your large extended families and close friends, a DW is a great way to do that but also keep the numbers to a comfortable level. I personally did not want a large wedding, but with over 30 first cousins, it's hard to keep numbers low. A destination wedding also allowed my fiance and I to compromise the "where", since we live in one place (California) and our families are spread out between Minnesota and Arizona. Since someone would have to travel, we made it fair and made everyone travel!
Destination weddings aren't for everyone, though. My Grandma will not be able to attend my wedding because of her health, and my best friend (who was supposed to be my maid of honor) will also not be in attendance due to the financial strain of a DW. But everyone who cannot come is still so excited for us and not hurt in any way that we planned our wedding this way. However, a lot of people WILL be upset and feel left out. So just keep that in mind if you go the DW route.
So there are just some of the many ways you can cut down on the expense of a wedding venue! Do you have some ideas? I'd love to hear them, please post in the comment section so budget brides can receive your wisdom and experience!