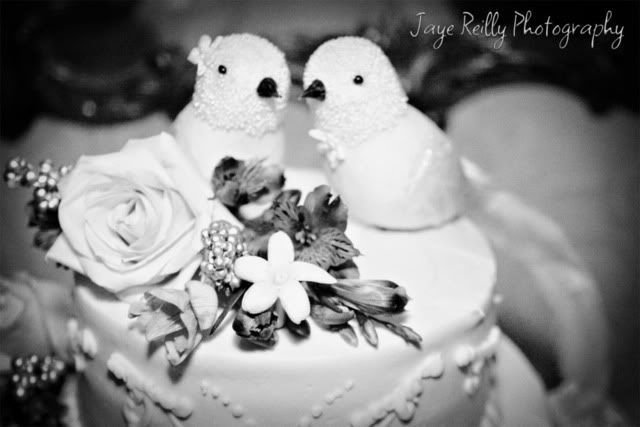 Let's face it... Weddings are EXPENSIVE! According to
CostOfWedding.com
the average wedding in the United States will cost $26,542 with the average wedding costing somewhere between $19,907 and $33,178. In the average, at least in my area, a bride and groom can expect to spent about $400 on the wedding cake.
$400, in the grand scheme of things, is not a lot of money. In fact, that can be the most affordable part of your wedding day even if you pay the average! But if you think $400 will break the bank, or you'd rather save there so you can spend somewhere else, here are just a few ideas on how you can save a little green on that wedding cake!
PLEASE NOTE: The cost of cake will vary greatly depending on where you live! The prices quoted below are from research I have done in my local area (North Central California), my experience with cake shopping in Rochester, MN, and a friend's cake company in Central California. These numbers are specific to these areas only, although I imagine they won't vary too much unless you like in a major metropolitan area where the cost of living is higher (like New York or San Francisco).
1) Check Out the Grocery Store
We are not having a traditional cake from a bakery for our wedding since it's a DW, but did do some basic research when we were originally planning an "at-home" wedding. I also had a wedding cake at my first wedding. Prices in my area ranged anywhere from $2.50 per person to $3.75 per person to $85 for a 2-tier cake that will feed 25 people. So, how places price cakes seem to vary, but I found that the GROCERY STORE was always the most affordable!
Before you shake your head at the idea of a cake made at the grocery store, try them out. Most places will do free tastings that will allow you to taste the quality of their cakes as well as meet their bakers and take a look at their design options. The first time around my Mom and I went around to three bakeries, the grocery store, and a large chain box store to try out their cakes. By far, the Hy-Vee in Rochester, MN (Barlow's Plaza for anyone in the area!) had the BEST cakes! We devoured the samples and there were no left overs.
On top of that, the baker (Janine) was amazing and my cake was exactly what I had requested. I wanted an ocean-blue cake with sea shells cascading down one side (pictured). It was a 3-tiered square cake as well, which is a shape that is usually more expensive. In the end, I was very, very pleased with my cake. So much so that I recommended the same bakery and cake to a friend for her wedding. And, like me, she loved her cake!
2) Feed Your Guests Sheet Cake
Everyone likes the idea of doing the cake cutting with a beautiful tiered cake, but did you know that a tiered cake is more expensive than a sheet cake and you actually get less in a lot of cases? Plus, the cake is usually cut up back in the kitchen and served in slices. So why not purchase a smaller tiered cake and then feed your guests sheet cake?
Let's say your bakery charges $3.00 per serving for a tiered cake and $100 for a full sheet cake, and you have 150 guests coming to your wedding. On average, a full sheet cake will produce 100 servings. So instead of paying $3 per serving, you are pay $1 per serving. If you get a small two-tiered sheet cake with 6" and 9" tiers this cake will feed 25 on average, so you can expect to pay $75 or so for this tiered cake. Throw in a full sheet cake for $100 and a half sheet cake for $65 and you are spending just $240 on your wedding cake with left overs to spare!
Going this route you can also save the top tier of your tiered cake for the first anniversary tradition without risking running out of cake for your guests, and still pay less than just having a full tiered cake. You still get your lovely designed tiered cake for the cake cutting and display, and your guests still get yummy cake, all while staying on budget.
3) Get Cupcakes!
Cupcakes are HUGE right now! Of the dozen or so weddings I went to last year 4 of them had cup cakes instead of a traditional cake. Guests generally love these, and the bride and groom love them because they are often more affordable!
If you are paying $3/serving for a tiered cake in your area, look into cupcakes. A shop in my town called
Cupcake Crusader
charges just $18 for a dozen cupcakes! That comes out to $1.50 per serving! So for a guest list of 150 you will need 13 dozen cupcakes at a cost of just $234!
However, I will note that Cupcake Crusader is the lowest cost cupcake maker in my area that I was able to find by doing a simple online search. Another cupcake baker in my area charges $2.25 per cupcake, which would make the cost go up to $27/dozen or $351 for 13 dozen. So this option is not always more affordable. But on the same note, my friend runs
Clever Confections
in Turlock, CA and she only charges $15/dozen so just $195 for 13 dozen cupcakes! And I hear her Irish Car Bomb cupcakes are TO DIE FOR!
4) Find a Friend or DIY!
Image Courtesy of Clever Confections
Cupcakes, cake design, dessert design in general is becoming a big hobby for a lot of people these days. I have many friends who make cakes either as a hobby or part time job, but do not own their own bakeries. Often times you will find that they will charge less to make their delicious creations. Either charging cost or a small fee. A lot of the time your friends' talents will look and taste similar to those you can get at a large bakery. BUT, like all DIY options, there is risk involved. If you friend gets sick, if your oven breaks, if you forget an ingredient, etc. you could end up with a cake disaster and be SOOL. Especially if you DIY it can also bring in a lot of unneeded stress! So, if you go this route, I'd say hire a friend who does this as a regular hobby or small business. Just to take the stress off of you!
You may even have some friends who are not regular cake makers who want to contribute to your wedding and offer to make your cake. If you aren't set on a specific look or too picky about perfection, take them up on it! My friend Kristina had a friend make her cake and while it wasn't exactly professional looking it was fun and crazy and a little kooky, which fit her so perfectly! In that case I think the less-than-perfect cake fit the mold of her style, personality, and wedding than a finely designed cake would have.
Had my fiance and I opted for a local wedding, as we were originally, we would have had my friend at
Clever Confections
make our cake for us. We estimated we would spend between $200-250 to do a combination of cupcakes and a small tiered cake and possibly even a sheet cake (I love variety!) which is far under the average of $400.
5) Skip The Cake Altogether!
Not everyone likes cake or cupcake. So why not skip the wedding cake altogether and instead opt for some yummy cake alternatives. I will actually be doing another post soon to breakdown some of my personal favorite Wedding Cake Alternatives. Note, some may actually be MORE expensive than a traditional wedding cake, but many are much, much more affordable. So stay tuned for that!
In Conclusion...
I wanted to conclude this post by saying that there are many, many talented bakers out there who not only create beautiful custom decorated cakes, but delicious and unique cake/cupcake recipes out there. Since $400 is such a small price to pay when you consider how much everything else costs, I'd still keep an open mind to a more traditional cake. At my first wedding the cake was a highlight for me. The baker did a fabulous job... the cake was beautiful and delicious. If I had to, I would have spent double on that cake than what I did. To me, cake is worth the splurge. It's a nice treat for your guests and a way for you to show your personality in a creative way.
I actually attended a bridal show this past weekend and the cakes on display here were amazing! Also the samples were incredible. I know my first wedding was just four years ago but I don't remember cake being that awesome or pretty back then! It makes me sad that, due to us having a destination wedding, we won't have any control over the design or taste of our cake. :(
So if you want to splurge, DO IT!
Do you have some wedding cake money saving tips? I'd love to hear them! Please comment below with your ideas and suggestions.