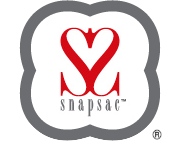 Let's go back to giving the gift of green this year and take a look at
SnapSac
! SnapSac carries a wide variety of eco-friendly, reusable shopping totes that are also stylish!
Take a look at the
Grocery Tote
! At just $2.49 this stylish tote would make a great stocking stuffer for children and adults alike! Kids can use these 12.5"w x 17" h x 8" g totes as a lunch box or to carry toys and books with them on long trips! Adults will love it for shopping trips, especially in areas that now charge for plastic bags this tote is stylish AND a money saver for your loved one!
The
Petit Tote
is just $2.99 and would also make a great stocking stuffer! Adults will love using the Petit Tote as a lunch bag if they brown-bag it to work. It can be used for light shopping trips as well! At just 18"w x 12" h x 7.5" g in size this bag folds up nicely and travels easily.
But, if you really want to get your loved one something special, reuable, and eco-friendly look no further than the
Super Tote
! At just $3.99 this tote is affordable and perfect for so many uses! I use mine to tote around my bathroom supplies when I go on trips. It can of course be used for shopping trips, too! And I can confirm that it is large enough and strong enough to haul around a 17 pound turkey (though the straps seemed a *litte* strained, they never broke!). The tote compacts down nicely to about the size of my iPad, which means it fits nicely in my iPad purse pocket, making it the perfect size for me! You all know I am horrible at remembering my shopping bags! But when the fit flat and nicely into my purse they are a lot easier to remember!
This Would Be A Great Gift For:
Children and adults a like! The smaller sizes could be stocking stuffers an the large sizes (I didn't even mention the
Mega Tote
,
Lunch Tote
, and
Cool Tote
) make great stand-alone gifts for so many! The uses are endless (from shopping to road trips to brown bag lunches) that you would be really hard pressed to find someone that these totes would NOT make a great a gift for! Remember, they all compact up and snap flat for easy storage! These bags are stylish, recyclable, and all are under $10.
BUY IT!
SnapSac
is available on their website. You can also find
SnapSac Totes in various groceries stores
, like Sprouts and Albertsons. Use their online store finder to find a store near you that carries SnapSac Totes!
WIN IT!
One lucky Eco-Friendly and Frugal winner is going to WIN a
SnapSac
Super Tote courtesy of SnapSac! If you don't see the giveaway widget below click "Read More".