How I've managed to get through this much of my post-puberty life without hearing about
Coochy Shave Cream
, I really have no idea. But somehow, it happened until this past summer when, once again, a friend turned me onto a life changing product offered at
EdenFantasys.com
.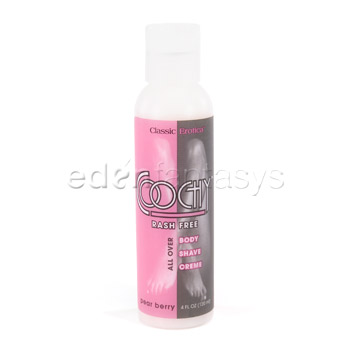 Coochy Shave Cream
is a rash-free shave cream that is designed protect and moisturize your skin while you shave to give you a closer, smoother shave. It's not just a gimmick, it really does work! It's designed for both men and women to use and you can use it on other places besides your Coochy. :)
I've been shaving with Coochy Shave Cream for about 3 months now and, honestly, I will never be able to go back to any other sort of shaving product. It really works that well. My friend who turned me onto the product also says she will never go back and everyone I mention this product to who uses it raves about it. I have yet to hear anyone who's had a bad experience with Coochy Shave Cream, in fact. It works by moisturizing even the coarsest of hair as well as your skin, so when you run the razor over it the hair comes off easily and your skin is left soft and smooth.
At $6.99 for a 4oz bottle it seems expensive, but I use such a little bit of this shave cream, and shave less often, so a 4 oz bottle will probably last me several months. Keep in mind, I am a very fair haired person and even before Coochy I would only shave once every 2-3 weeks. But now I'm down to shaving maybe once a month (you hate me now, don't you?). So with Coochy I'm probably spending just as much money on shaving products as I was before, just shaving less often to off-set the higher initial cost. So all in all it's a good deal for a great product!
Coochy is unfortunately sold out right now on
EdenFantasys
, but I have an email alert set up so when it's back in stock, I will let you know! It is available in three scents- Green Tea, Pear Berry, and Original.