EdenFantasys.com
, with it's wide variety of
sex toys
and other
adults toys
and products, is a great place to go to find products to "sexy up" your honeymoon! We are just 4 months out from our wedding so I've been thinking about this a lot and would like to share a few fun things I found with you that can be used specifically for your honeymoon!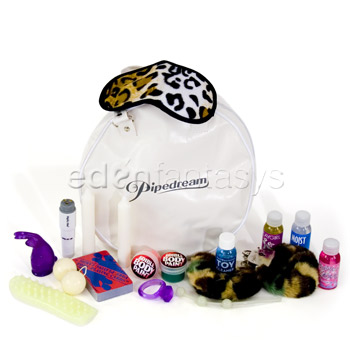 The
Honeymoon Carry-on Bag
is sure to please! Light the spark of romance and keep it going through your honeymoon with a taper candle, fore-playing cards, massage oil, edible body paint, blind fold, hand cuffs, and more! The bag comes complete with toy cleaner and even a luggage lock to keep your kit discreet.
I haven't done the math on what it would cost to assemble this kit yourself, but for just $49.99 I imagine it's an excellent, sexy deal!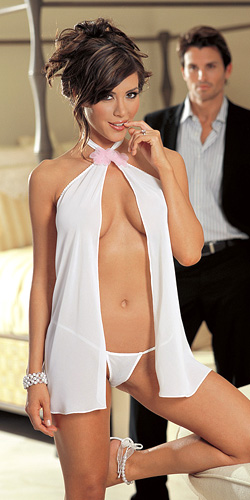 Have you given any though to what you will WEAR on your honeymoon? The
Nuptial Chiffon Babydoll Set
is a fun and playful way to tie your white dress into your wedding night and honeymoon!
This angelic halter style babydoll is soft and sheer with a sexy open front. Pink shimmering flowers with a beaded center accent the neckline, as well as the back of the matching g-string. It's sexy, but subtle and sure to please at just$24.99 on the EdenFantasys website. Throw in some sexy heels (maybe a chance to wear your wedding shoes again?) and your beautiful new wedding band and you'll have yourself a sexy outfit that says "I'm Yours"!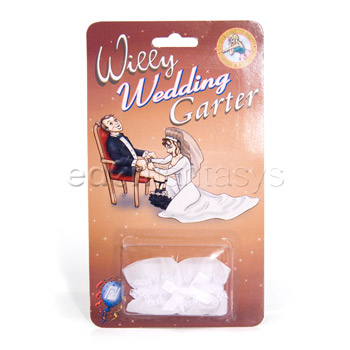 But what about HIM? You shouldn't be the only one dressing up on your honeymoon. Why not get your man the
Willy Wedding Garter
and have a little fun yourself? It's probably not recommended that you do a Willy Garter toss at the reception, but you can have a little fun with it on your wedding night! Tons of fun for just $4.99!
So there are just a few of the fun and creative ways to spice up your honeymoon with
EdenFantasys
!