A few weeks ago I was hanging out with a few female friends and, after a few drinks at a local restaurant, we got onto the subject of
sex toys
. I'm not sure how, I'm not sure why, but we went there. At first it seemed like one girl was treading on the topic, wanting to learn more. So we started chatting about sex toys and then moved onto things that make sex, in general, more interesting. This is where I learned of a product that I never knew existed before - flavored warming lubricants from
EdenFantasys.com
.
According to one girl in the group- she hated certain intimate acts until the moment she discovered this stuff. Basically, it's a lube, that's flavored, and after a few moments on your skin it warms up. At first I thought it was a little strange sounding, but we went to her place and checked it out and... yeah. I was intrigued! So I ran home as soon as I could to check the inventory over at
EdenFantasys
to see if they carried warming flavored lubricant. I couldn't remember the name of the brand that my friend had, but the bottle (from what I recall) looked just like their
Razzels Warming Flavored Lubricants
Available in six scents - watermelon, tropical fruit, strawberry, cherry, green apple, and orange -
Razzels
offer users a flavored warming lubricant perfect for "getting things started" and "keeping things going". It's latex compatible and has no bitter aftertaste or added sugar!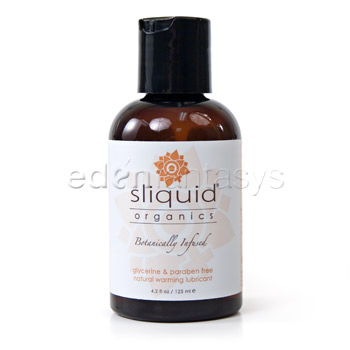 The downside- they aren't organic or vegan. Given, they would be a lot of fun, I know a lot of you are looking for eco-friendly alternatives. I couldn't find a flavored warming lubricant that offered a nice alternative for the organic only crowd, but I did find
Sliquid Organic Warming Lubricant
! It's a female product, and what I take from that is it's to be used as a lubricant for intercourse, not for oral sex. But hey, it'll give you that same heat sensation that I had fallen in love with! It's made from natural ingredients and infused with botanical extracts. It's also vegan, animal friendly, and made in the USA!
The ingredient list (Purified water, Plant cellulose(from cotton),Aloe borbadenis*, Natural tocopherole(Vitamin E), Cyamopsis, Extracts of Hibiscus*, Flax*, Green tea* and Sunflower seed*, Menthol, Citric Acid, Phenoxyethanol. * - Certified organic) didn't scare me, and the product itself intrigues me!
It... yeah. Looks like a lot of fun! Pile that on top of an excellent price - $12.99 for a 4.2 fluid ounce bottle - and you have yourself a wonderful, eco-friendly, vegan product that will help enhance your sex life.
I'd really like to thank my friend for turning me onto this product. While I will continue to wait and hope that
EdenFantasys
will soon start carrying an organic flavored warming lube, I think it's OK to relax my morals a little (hehe) and pick up the
Razzel
brand of warming flavored lubricants this time.