This week I will be introducing you to three Etsy shops that can help you spruce up an apartment or other temporary living space. I'll admit I still have a lot ways to go to make my own home look more lived in (mostly, things on the walls) but with the help of these three shops I at least have added some beautiful, easily moved accessories to my living space! This of these shops and products if you are living in a dorm, apartment, or renting a home for only a few months to a year.
So... lets just get started right away!

My dining room stood empty for the entire first month and a half that I lived in Phoenix. I was searching high and low for an easy-to-move dining room table set that would work for the limited space I had available for a dining room. I also wanted a set that friend's could sit around and play Settlers of Catan, which we do pretty often.
Eventually I settled on a glorified folding table and folding chair set. It's black, actually looks pretty nice, and fits nicely in the space. But it's still a folding table and it's still black, I wanted to spice it up a bit. So this is where
NikkiDesigns
comes in!
NikkiDesigns
makes and sells some beautiful eco-friendly housing decorations and goods in her Etsy shop. Everything from eco friendly draperies and roman blinds, organic bedding, table linens, gift bags and more. I personally am in love with her line of
window coverings
. She sells beautiful organic Roman blinds, organic pleated curtains, and organic hemp scarf valances. But as much as I love these, buying specifically sized window dressings for a temporary space isn't really cost efficient or practical. I will, however, remember this for when I own a home or live in a more permanent space!
Instead, we decided it would be best to review one of her organic and eco-friendly home products that can easily be packed and moved. So this brings us back to my dining room and how
NikkiDesigns
helped me spruce up this otherwise boring space!
NikkiDesigns Organic Hemp Table Runner
fits great on my square folding table and would also look great on your longer square or even round table! It's such a simple and elegant way to add some different color accents to your space. I added a couple of soy candles and picture of my family from my brothers wedding on top and created this simple yet appealing temporary space: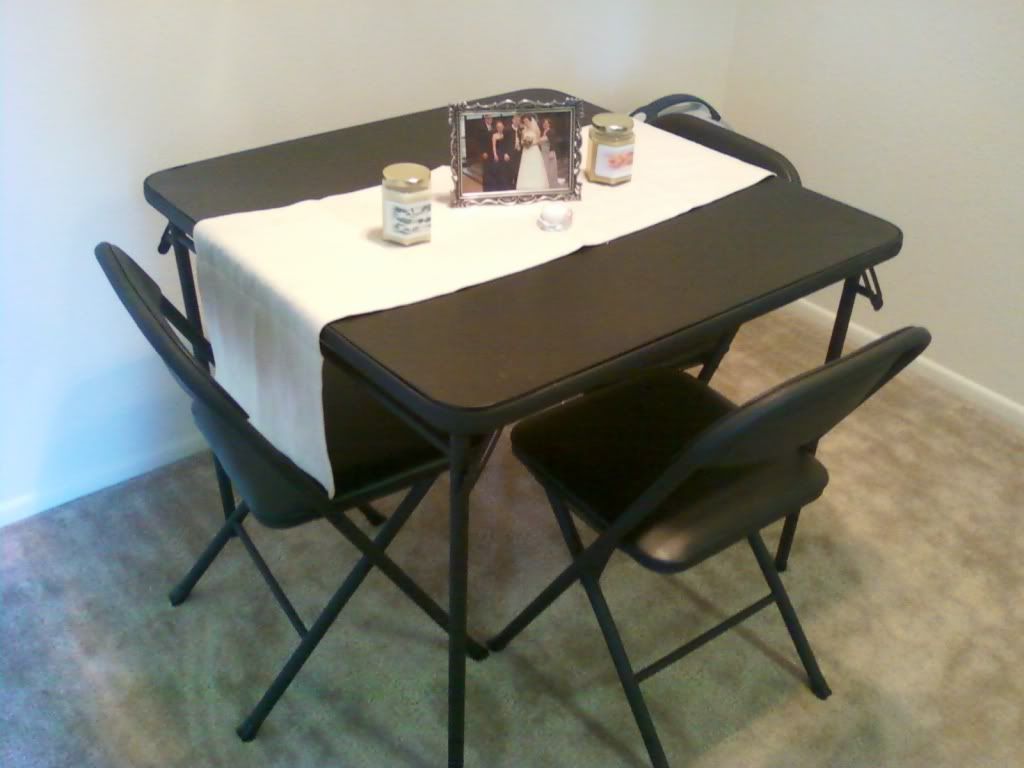 You spice this area up even more with some
Organic Hemp/Cotton Napkins and Shell Napkin Rings
and some
Organic Reversible Placemats
along with some dishes (which I recommend hitting up Good Will for!).
So thank you, NikkiDesigns, for dressing up my boring dining room and making it just that much more interesting! I've even gotten some compliments on the runner since I added it to my living space a couple of weeks ago. Soon I will add some artwork to the walls, a rug under the table, and really tie this simple room together!
And why not let NikkiDesigns help you like she helped me? With items for your
bedroom
,
dining room
,
living room
,
bathroom
, and more you are sure to find some great eco-friendly and organic products that would fit perfectly in your temporary (and permanent!) living space!
What I Love:
NikkiDesigns
products are handmade and sold in an Etsy shop and you all know how much I love that! Her products are made from eco-friendly organic hemp and cotton products. This is a Canadian company so shipping to the US is just a bit more expensive, but if you're on the hunt for a great Canadian Etsy shop, here you go!
What I Don't Love:
I really can't think of anything. The prices are a bit high but you are paying for top quality organic products which are NOT cheap, so I have no problems for these prices and no problems paying for them!
BUY IT!
Want a beautiful
Organic Hemp Runner
from
NikkiDesigns
to spice up your living area? Pick one up for $32! The runners are also available in 4 other colors and designs and range in price from $32-49. The other table linens I mentioned in this post range in price from $28-68.
Looking to decorate the windows in a more permanent space? The price tag of $79-205 may seem a little steep, but you will not be disappointed in the quality and eco-friendliness of the
Window Coverings
available from NikkiDesigns!
WIN IT!
NikkiDesigns is offering one winner an Organic Hemp Table Runner, the same product I reviewed above, of your very own! This is a $32 value and a wonderful eco-friendly way to spice up your living room!
Mandatory Entry:
You must do this for all other entries to count and to be entered in this giveaway! Head on over to the
NikkiDesigns Etsy Shop
and tell me one other product besides the table runners that you would love to have in your home! You must also be a public Google Friend Connect Follower of my blog (widget to the right).
Don't forget to leave an e-mail address so I know where to contact you if you win! You only need to post your e-mail on one entry.
Extra Entries:
Please write a new comment for each additional entry. If something is worth 2 entries, be sure to leave two comments. For example: "I follow you #1" and "I follow you #2" should be two different comments.
-Heart (Add To Favorites) NikkiDesigns in
Etsy
-Like NikkiDesigns on
Facebook
and comment with your username
-Follow NikkiDesigns on
Twitter
and comment with your username
-Follow NikkiDesigns
Blog
publicly via Google Friend Connect (worth 2 entries)
-Make a NikkDesigns purchase during the course of this giveaway. I will confirm the purchase if you win. (worth 10 entries!)
-Network with me. There are four ways to do this- Twitter, Facebook, RSS, and email subscriptions. Buttons are on the left sidebar. (worth 1 entry per method)
-Tweet about this giveaway. You can use this Tweet or write your own:
Win an #Organic Hemp Table Runner from @nikkidesignseco on @EFandFrugal during Apartment Week! Ends 11/04
http://bit.ly/9cIeRf
#giveaway
(2 Tweets per DAY-at least 2 hours apart- 1 Entry per Tweet)
-Add my button to your blog's sidebar and link me to your blog (worth 3 entries)
-Vote for me on Top Mommy Bloggers. Voting button is on the left sidebar (worth 2 entries)
-Make a comment on a non-giveaway post on my blog (worth 1 entry per post commented on)
-Enter another active giveaway (links in the right sidebar, worth 1 entry per giveaway entered)
-Follow at least one blog who's button I have on my left side bar (worth 1 entry per blog followed!)
This giveaway is open to my readers who are 18 year of age or older with a US or CANADIAN! mailing address and will end on November 2nd, 2010 at 10PM Pacific Time. The winner will be notified via e-mail and will have 48 hours to respond or a new winner will be selected. Good luck, everyone!
Fine print...
NikkiDesigns provided me with a free product at my request for the purpose of this review. I was under no obligation to write a positive review or sponsor a product giveaway in return for the free product. All opinions expressed are my own. I was not paid to write this review.