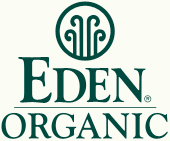 You already know that I love gift baskets or any other gift-giving website or program that encourages showing someone you love that you are thinking about them. So when I came across
Eden Foods Gift Baskets
I got very excited because this wonderful company combines the gift of giving with the gift of healthy living!
Eden Foods
is a company I have been familiar with for a while now, and if you're not familiar with them... you should be! They make delicious, healthy, organic foods that retail for affordable prices. I first discovered Eden Foods when I came across their Montmorency Dried Tart Cherries. I will freely admit that dried cherries are not just my favorite snack but also my snack food weakness. I love them and I will devour an entire bag in sitting if allowed. Eden Foods' Montemorency Dried Tart Cherries are by far the BEST dried cherries I have ever tasted and I have tried many, many brands and types of dried cherries!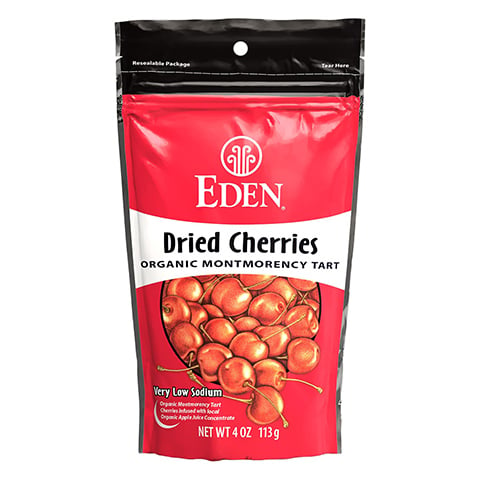 On top of many varieties of snack foods
Eden Foods
also offers a wide variety of dried and canned beans, condiments, oils and (amazingly delicious) vinegars, pastas, and whole grains. You can create a whole delicious meal using Eden Foods' products. I have tried a varitey of their products both as a consumer and a reviewer and I have never once been disappointed by the quality or taste. Eden Foods is by far one of my favorite healthy food companies who's quality never wavers.
Now, back to the
gift baskets
! Yes, Eden Foods has a variety of gift baskets that would make the perfect "I'm thinking of you" gift for a friend or family member who is celebrating a birthday, getting married, or just needing a pick-me-up after a bad day.
I love these baskets because they are healthy, delicious, and EXTREMELY affordable. My mouth dropped when I saw the pricing of
Eden Foods Gift Baskets
. They start as low as $30 for the
Gluten Free Grain Basket
that includes Native American hand harvested wild rice, organic red quinoa from the Andean Plateau, North Dakota organic raw hulled buckwheat, organic yellow USA millet, and USA organic popcorn that are all wheat and gluten free. If you have a friend of family member who has a gluten free diet this basket will be beyond valuable to them!
Want something a little more "for everyone" that still comes with a low price tag? Check out the
Eden Organic Pasta Basket
- perfect for the pasta and Italian food lover in your life! I was given the opportunity to receive and review this basket for you and I can honestly say that anyone receiving this basket as a gift will cherish it and really enjoy it!
This genorous basket sells for just $40 and includes: 100% whole grain Kamut & Quinoa Twisted Pair; 60% whole grain Parsley Garlic Spaghetti; Vegetable Spirals with colors from organic vegetable powders; award winning cold pressed Extra Virgin Olive Oil; Spaghetti Sauce; Pizza-Pasta Sauce; Diced Tomatoes with Sweet Basil; and Cannellini white kidney beans. Yes, a $40 gift basket includes all of that!
It doesn't make just pasta, either! We have used the products in homemade pizza and in dips for Sunday Football. They have all been a huge hit among the friends and family we spend Sundays with. My favorite (if I had to choose one) was the
Parsley Garlic Spaghetti
. I cannot beging to tell you how full of flavor this pasta is! If you are a fan of garlic-y pastas you must check out this product. You can pick it up with the Eden Organic Pasta Basket (because not all gift have to be for other people, sometimes we need to reward ourselves, too!) or pick it up from Eden Foods by itself with your next order.
The basket itself is beautiful and versatile. I currently use it in my kitchen to our the unrefridgerated produce (potatoes and bananas mostly) but I imagine it could be used for any number of purposes in many different rooms in your home. But it's definitely re-usable with lots of purpose!
What I Love:
Eden Foods Gift Baskets
are very affordable and packed with Eden Foods products that are both tasty and healthy. These baskets would make great gifts for anyone on a special diet (such as gluten free) or the healthy eater in your life. Though I'm sure even the non-healthy friends will find the Eden Foods products included in these fabulous baskets to be a wonderful, wonderful gift!
What I Don't Love:
Again, there's nothing I can think to put here!
BUY IT!
Love what you've read and want to pick up an
Eden Foods Gift Basket
for a friend or family member, or maybe just want to pick up some Eden Foods products to fill up your own shelves? Great, you won't regret it! Head over to the website now and take a look around. The prices are affordable and the products are delicious and healthy!
The Gift Baskets range in price from $30 for the Gluten Free Grain Basket and go up to just $90 for the Organic Matcha, Green Tea Powder Kit. With baskets in every price range in between I know you'll be able to find the perfect gift in a price range you can be comfortable with.
WIN IT!
Yes! Eden Foods has offered one of my readers the Eden Organic Pasta Gift Basket to give as a gift or keep for yourself! Read on to see how to enter this fantastic giveaway!
Mandatory Entry:
You must do this for all other entries to count and to be entered in this giveaway! Head on over to the
Eden Foods Gift Basket
page and then come back here and tell me one other basket not mentioned in this review that appeals to you. You must also be a public follow of my blog via Google Friend Connect (widget is on the right).
Don't forget to leave an e-mail address so I know where to contact you if you win! You only need to post your e-mail on one entry.
Extra Entries:
Please write a new comment for each additional entry. If something is worth 2 entries, be sure to leave two comments. For example: "I follow you #1" and "I follow you #2" should be two different comments.
-Follow Eden Foods on
Facebook
-Follow Eden Foods on
Twitter
-Subscribe to the Eden Foods
Newsletter
-Tell me on other
Eden Foods
product (NOT a gift basket) that you would love to try
-Make an
Eden Foods
purchase (of any product, not just the gift baskets) during the course of this giveaway. I will confirm the purchase if you win. (worth 10 entries!)
-Network with me. There are four ways to do this- Twitter, Facebook, RSS, and email subscriptions. Buttons are on the left sidebar. (worth 1 entry per method)
-Tweet about this giveaway. You can use this Tweet or write your own:
Win a delicious Eden Organic Pasta Basket with @EdenFoods and @EFandFrugal! Ends 10/14
http://bit.ly/brJbaH
#green #organic #giveaway
(2 Tweets per DAY-at least 2 hours apart- 1 Entry per Tweet)
-Add my button to your blog's sidebar and link me to your blog (worth 3 entries)
-Vote for me on Top Mommy Bloggers. Voting button is on the left sidebar (worth 2 entries)
-Make a comment on a non-giveaway post on my blog (worth 1 entry per post commented on)
-Enter another active giveaway (links in the right sidebar, worth 1 entry per giveaway entered)
-Follow at least one blog who's button I have on my left side bar (worth 1 entry per blog followed!)
This giveaway is open to my readers who are 18 year of age or older with a US mailing address and will end on October 14th, 2010 at 10PM Pacific Time. The winner will be notified via e-mail and will have 48 hours to respond or a new winner will be selected. Good luck, everyone!
Fine print...
Eden Foods provided me with a free gift basket at my request for the purpose of this review. I was under no obligation to write a positive review or sponsor a product giveaway in return for the free product. All opinions expressed are my own. I was not paid to write this review.